Click here to register for our October Charts Webinar (10/26)
—
This week's post is sponsored by YCharts. Mention Compound to receive 20% off your subscription when you initially sign up for the service.
Enabling smarter investment decisions & better client communications.
---
7 charts from the past week that tell an interesting story in markets and investing…
1) New Bitcoin Highs
The first Bitcoin ETF ($BITO) started trading this week, raising over $1 billion in assets in the first 2 days. This is the fastest an ETF has ever hit that mark.
This new source of demand combined with ebullient investor sentiment pushed Bitcoin back to new highs for the first time since April, crossing above $65,000 and then $66,000 shortly thereafter.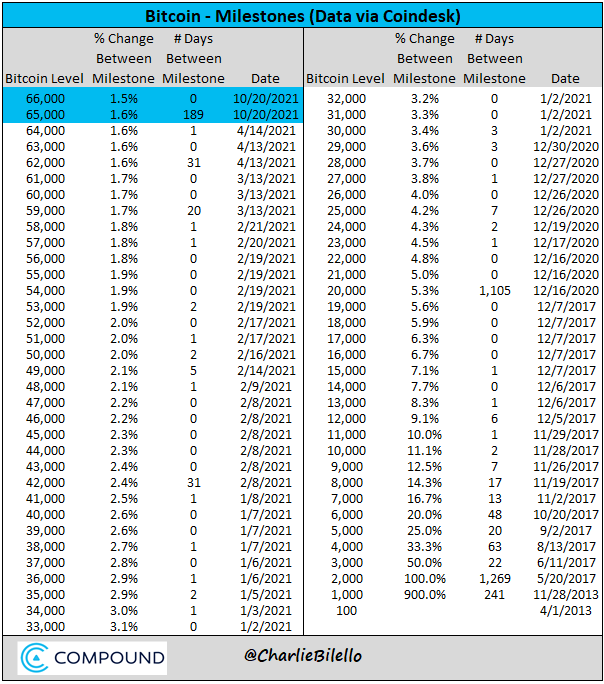 On Friday, a second Bitcoin ETF launched (Bitcoin Strategy ETF, $BTF), with more expected to start trading next week.
Flashback: in December 2017, Bitcoin peaked right around the start of futures trading, with an 80% decline to follow.
2) 17x Return in … 2 days?
We've seen a lot of parabolic moves this year, but this one may top them all. On Wednesday evening, the Digital World Acquisition SPAC ($DWAC) announced a merger that will launch Donald Trump's new social media platform.
The stock quickly became one of the most talked-about companies among retail investors and proceeded to increase over 17x from its close on Wednesday to its high on Friday.
3) Tesla New Highs
Tesla stock hit new all-time highs for the first time since January after reporting another record quarter of revenues ($13.8 billion) and profits ($1.6 billion).
At $911 billion, its market cap is now higher than the combined market value of Toyota, Volkswagen, Daimler, GM, BMW, Ford, Ferrari, and Honda.
4) What is $12 Billion in Losses Worth?
WeWork ($WE) went public via a SPAC merger this week and its market cap hit $12 billion.
Interestingly, this is exactly how much the company has lost since 2016…
Here's a look at WeWork's valuation over the years..
5) Squid Games
After a slump early in the year on lackluster subscriber growth and delays in new content, Netflix ($NFLX) has come roaring back.
The stock hit new highs this week after reporting earnings ($3.19 EPS vs. $2.56 expected) and new subscribers (4.4 million vs. 3.8 million expected) that surpassed estimates. Netflix now has 209 million global subscribers and is expected to add another 8.5 million in the 4th quarter.
The viral hit "Squid Game" has become Netflix's biggest TV show ever, with 142 million households watching it in the first 4 weeks alone.
6) Paypal and Pinterest?
PayPal ($PYPL) is reportedly in late stage talks to acquire social media platform Pinterest ($PINS) for $70 per share ($45 billion). If completed, this would be the largest technology acquisition in 2021, a record year for M&A. PayPal's stock fell 12% in the 3 days following the news, with some investors apparently questioning whether the acquisition would be beneficial.
7) Market Expecting Higher Inflation
Market-based inflation expectations in the US continue to surge, hitting their highest levels ever this week (note: breakeven inflation data goes back to 2003).
—
And that's it for this week. Thanks for reading.
Have a great Sunday and week ahead!
-Charlie
To sign up for our free newsletter, click here.
Disclaimer: All information provided is for educational purposes only and does not constitute investment, legal or tax advice, or an offer to buy or sell any security. For our full disclosures, click here.