Note: Click here for a replay of this week's webinar on Markets and Investing.
—
This week's post is sponsored by YCharts. Mention Compound to receive 20% off your subscription when you initially sign up for the service.
Enabling smarter investment decisions & better client communications.
---
7 charts from the past week that tell an interesting story in markets and investing…
1) Tesla Tops $1 Trillion
Tesla's market cap raced past Facebook to $1.1 trillion, becoming the 5th largest company in the US. This is a 500x increase from its IPO value in 2010 ($2.2 billion).
Interesting fact: over the last 2 years, Tesla's revenues have increased 91% while its stock price has increase over 1,600%. The result: a current price to sale ratio of 27x, up from 2x in October 2019.
2) Facebook Meta
Facebook ($FB) has changed its name to Meta with a new stock ticker ($MVRS) to debut on December 1.
This is reminiscent of Google's name change to "Alphabet" in October 2015, but with some important differences. Google's rebranding led to little change in their core business of search/youtube/etc. (its "other bets" category remains a fraction of their overall revenues), whereas Facebook is already making a huge investment ($10 billion this year) into its metaverse division (Reality Labs).
It remains to be seen if this pivot will prove successful, but Zuckerberg seems to understand that Facebook is losing traction with the younger generations, and is attempting to skate where the puck is going.
As for Alphabet, the name change didn't seem to hurt them at all, with a market cap today approaching $2 trillion, over 4x higher than when it was Google.
3) Spend More to Combat Inflation?
US PCE inflation moved up to 4.4% in September, its highest year-over-year increase in 30 years.
Gas prices continue to rise, hitting $3.48 per gallon, their highest levels over over 7 years.
Meanwhile, market-based inflation expectations hit a new high this week…
Do not fret, Treasury Secretary Janet Yellen has come up with a novel solution: we just need to spend more money…
4) Big Tech Gets Bigger
The combined revenue of the 4 largest US companies hit a record $1.24 trillion over the last 12 months. Here's the breakdown
-Amazon $AMZN: $458 billion.
-Apple $AAPL: $366 billion.
-Google $GOOGL: $239 billion.
-Microsoft $MSFT: $176 billion.
This is larger than the GDP of all but 14 countries.
In the 3rd quarter, the largest tech companies (and Tesla) continue to grow at a faster pace than the overall market…
5) Price Targets are Pointless
The S&P 500 hit its 59th all-time high of the year on Friday.
It also surpassed 4,600 for the first time ever, its 9th 100-point milestone of the year.
Entering the year, how many Wall Street firms anticipated these gains? Exactly none. The highest S&P 500 price target was from JPMorgan at 4,400.
6) Housing Boom 2.0
The US housing boom continues with a 20% gain the in the Case Shiller over the last year, its largest year-over-year increase ever.
Median new home prices in the US hit another record high in September ($408,800), posting a 19% increase over the prior year. 10 years ago the median new home price was $217,000.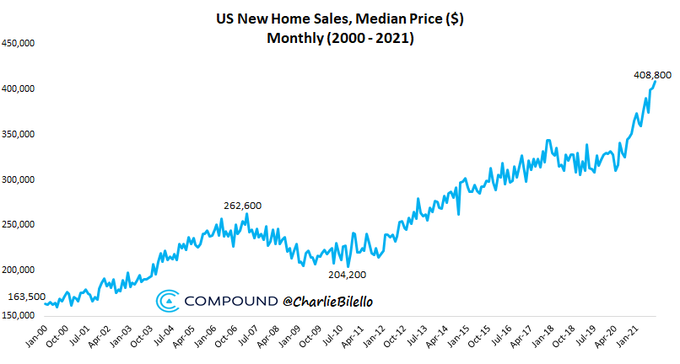 7) A New Dog in Town
Another week, another meme mania.
This time it was the Shiba Inu crypto coin ($SHIB), which saw a 5x increase in 4 days.
Its market cap surpassed $50 billion at one point, which is higher than the market cap of Twitter ($43 billion). According to the Shiba Inu website, it is the "Dogecoin Killer," and indeed its total value is now higher than Dogecoin's.
—
And that's it for this week. Thanks for reading.
Have a great Halloween and week ahead!
-Charlie
To sign up for our free newsletter, click here.
Disclaimer: All information provided is for educational purposes only and does not constitute investment, legal or tax advice, or an offer to buy or sell any security. For our full disclosures, click here.