Don't miss our latest insights. Sign up here for our free newsletter…
---
5 charts from the past week that tell an interesting story in markets and investing…
The S&P 500 fell 5.7% from its high in mid February to its low this week, its first correction since last September. This was the 28th correction greater than 5% since the March 2009 low.
Every correction is assigned a "reason" in hindsight, and this one is no different. The rise in interest rates and fears of inflation are the most common that I've seen.
On that front, long-term Treasury yields continue to trend higher (10-Year up to 1.55% from 0.92% at the start of the year) and inflation expectation (5-year breakeven) hit their highest levels in over 12 years this week.
2. Momentum Breakdown
The sell-off in high momentum stocks over the past few weeks was more than 3x larger than the broad market.
This is the sharpest momentum downturn on a relative basis that we've seen in quite some time.
3. Tesla Investors Tested
Tesla, long a momentum leader and the most talked about stock of the last year, is under some selling pressure.
Its current drawdown: 38%, the largest since last March…
Tesla remains the largest holding in the popular Ark Innovation ETF ($ARKK) which is experiencing a correction 6x larger than the broad market.
Another day, another billion raised in SPACs. We're quickly closing in on the record total from last year – and it's only March 5.
When will this trend start slowing down?
Only when investors demand wanes, which will only happen when SPACs are not viewed as a risk-free proposition.
We may be seeing some early signs of that, with a number of the most popular SPACs showing significant declines in recent weeks, with the SPAC ETF ($SPAK) down over 20%.
US National Debt crossed above $28 trillion for the first time, increasing $4.6 trillion over the last year. More debt is on the way with the $1.9 trillion stimulus bill getting closer to passage.
Moving higher with national debt is the US Money supply, which grew 25% in 2020, the largest annual increase in history by a wide margin.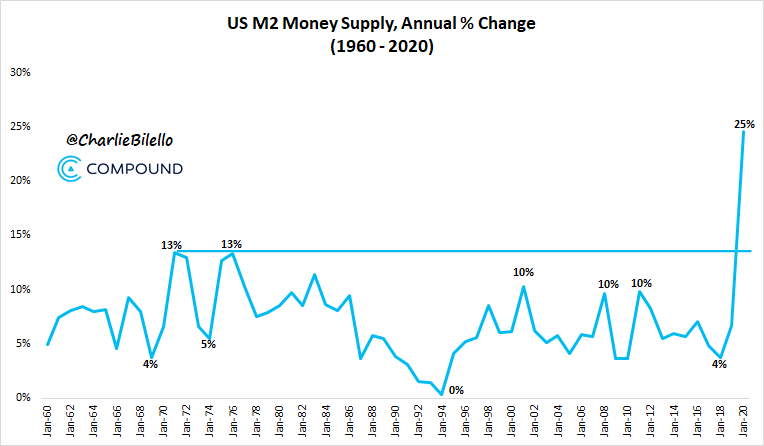 5. Covid Downtrend Continues
Covid-19 hospitalizations in the US have now declined 51 days in a row.
The US has averaged 2.1 million vaccines shots per day over the last week, a new high. 16% of the population has now been given at least 1 dose and with the J&J vaccine rolling out this week, the pace should continue to increase…
---
And that's it for this week. Thanks for reading.
Have a great weekend everyone!
-Charlie
To sign up for our free newsletter, click here.
Disclaimer: All information provided is for educational purposes only and does not constitute investment, legal or tax advice, or an offer to buy or sell any security. For our full disclosures, click here.