5 charts from the past week that tell an interesting story in markets and investing…
1. New All-Time Low in Mortgage Rates
It's official…
The 30-Year Mortgage Rate in the US hit a new all-time low this week: 3.29%.
2. Let the Easing Begin…
In the first emergency move since 2008, the Fed cut rates by 50 bps to 1.00-1.25%. Joining the Fed in cutting rates were Australia, Saudi Arabia, Malaysia, Canada, and Hong Kong. Many more rate cuts are expected in the weeks and months ahead.
3. The Road Back to 0…
The Fed is expected (>80% probability) to cut another 50 bps by the March 18th FOMC meeting, paving the way for a move back to 0%.
4. No More Real Yield
The Real 10-Year Treasury Yield (yield minus core CPI) moved down to -1.5% this week, its lowest level since July 1980. Back then the 10-year yield was 10.8% and core inflation was 12.4%.
5. The End of an Era
U.S. jobs grew for the 113th month in a row in February, by far the longest run in history. With a recession expected soon, this may be the end of an era.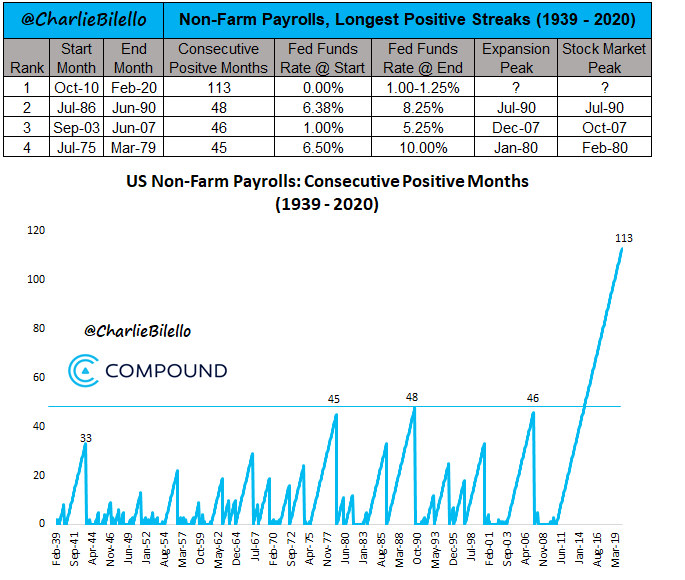 And that's it for this week. Thanks for reading.
Have a great weekend everyone!
-Charlie
To sign up for our newsletter, click here.
—
Disclaimer: All information provided is for educational purposes only and does not constitute investment, legal or tax advice, or an offer to buy or sell any security. For our full disclosures, click here.