Note: I have a new video channel on YouTube where I'll be sharing my latest thoughts on markets and investing. You can view the video accompanying this post here.
This week's post is sponsored by YCharts. Mention Charlie Bilello to receive 20% off your subscription when you initially sign up for the service.
—
7 charts from the past week that tell an interesting story in markets and investing…
1) Unaffordable Housing
The average price of a new home sold in the US has hit a record $511,000, up 25% over the last year alone.
The surge in prices is coming at the same time that borrowing costs are skyrocketing, with the 30-Year mortgage rate moving up to 4.42%. This is its highest level since January 2019. In the last three months we've seen a 1.37% increase in 30-year rate, the largest 3-month spike since May 1994.
While the mortgage rate is the same as it was in January 2019, the average home price is now 42% higher. That means a 42% jump in the monthly payment, making the average house unaffordable for an increasing number of Americans.
2) The Free Money Effect
The significant increase in US home prices (Case Shiller National Index up 19%) combined with a roaring stock market (S&P 500 up 29%) lead to an $18.2 trillion increase in US Household Net Worth during 2021. This was the third consecutive year of record highs, an unfathomable outcome when the pandemic first hit in early 2020.
How did we get here? Borrowing, printing, and spending.
US National Debt is more than $6 trillion higher than it was at the start of 2020 and the money supply has increased by over 40%.
3) It's All Relative
Given this backdrop, why has the US Dollar been so strong of late?
Currencies are all relative, and while the Federal Reserve has been rapidly expanding its balance sheet, so too have the ECB (Euro) and the Bank of Japan (Yen).
The Japanese Yen ETF ($FXY) is now at an all-time low, down over 42% from its high in 2011.
The Bank of Japan's Assets as a percentage of GDP now stands at 135%, up from 90% five years ago and 28% ten years ago.
By comparison, the Fed's balance sheet expansion looks relatively tame at 37% of GDP, up from 23% five years ago and 18% ten years ago.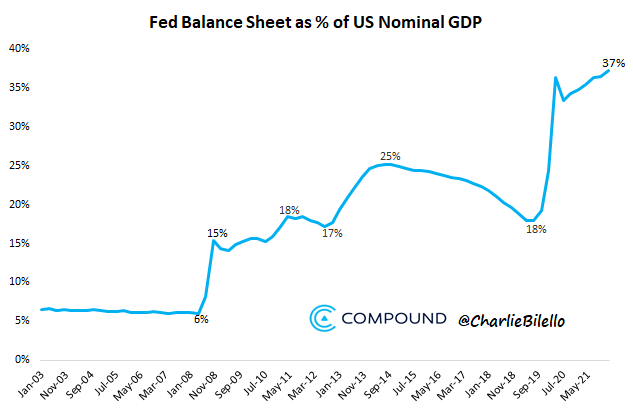 4) The Great Divergence
1, 2, 3, 5, 10, and 30 Year Treasury yields are all at their highest levels since 2019. The market is now pricing in a year-end Fed Funds Rate of 2.25%-2.50%, up from 0.25%-0.50% today.
While the Fed is expected to continue tightening, the ECB and Bank of Japan continue to hold short-term interest rates at negative levels. That's lead to a great divergence in central bank policy, with the spread between US and Japanese bond yields surging higher.
5) The Most Pain to the Most Participants
Two weeks ago I put out a poll asking what would be more of a surprise, a 10% rally or a 10% decline…

There's an old saying that the market likes to move in the direction that causes the most pain to the most participants.
Apparently, the "pain trade" was up. The S&P 500 has since gained 10%, one of the largest short-term rallies in history, and is only 3.4% away from a new all-time high. Bonds ($AGG ETF) are now a bigger drag on portfolios this year and are over 8% below their high from August 2020.
6) The Good, the Bad, and the Ugly
Good: the US job market continues to improve, with jobless claims now at their lowest levels since 1969. After adjusting for the increase in population (US population was 203 million in 1969 vs. 333 million today), claims have never been lower.
Bad: In the last 70 years, the only time US Consumer Sentiment was this low without the US being in a recession was a brief period during the 2011 bear market (Aug-Sep '11). 32% of respondents in the University of Michigan survey said they expected their financial position to worsen in the year ahead, the highest level ever recorded (survey started in mid-1940s).
Ugly: the price of Fertilizer continues to hit record highs (portending lower output and higher food prices to come), more than doubling over the last year. Who is the largest exporter of fertilizer in the world? Russia, at 13% of total exports.

7) New Pandemic Lows
Global Covid-19 deaths have fallen to their lowest levels since the start of the pandemic, down 73% from their peak in January 2021.
---
And that's it for this week.
Have a great week everyone!
-Charlie
To sign up for our free newsletter, click here.
Disclaimer: All information provided is for educational purposes only and does not constitute investment, legal or tax advice, or an offer to buy or sell any security. For our full disclosures, click here.