NOTE: Register Here for our upcoming webinar (January 26) on the high growth crash, the end of easy money, and the changing market environment in 2022.
—
This week's post is sponsored by YCharts. Mention Compound to receive 20% off your subscription when you initially sign up for the service.
Enabling smarter investment decisions & better client communications.
—
7 charts from the past week that tell an interesting story in markets and investing…
1) All Good Things…
…must come to an end.
We saw that play out in markets this week with the end of two historic runs.
On Thursday, the Nasdaq 100 Index closed below its 200-day moving average for the first time since April 2020 (450 trading days).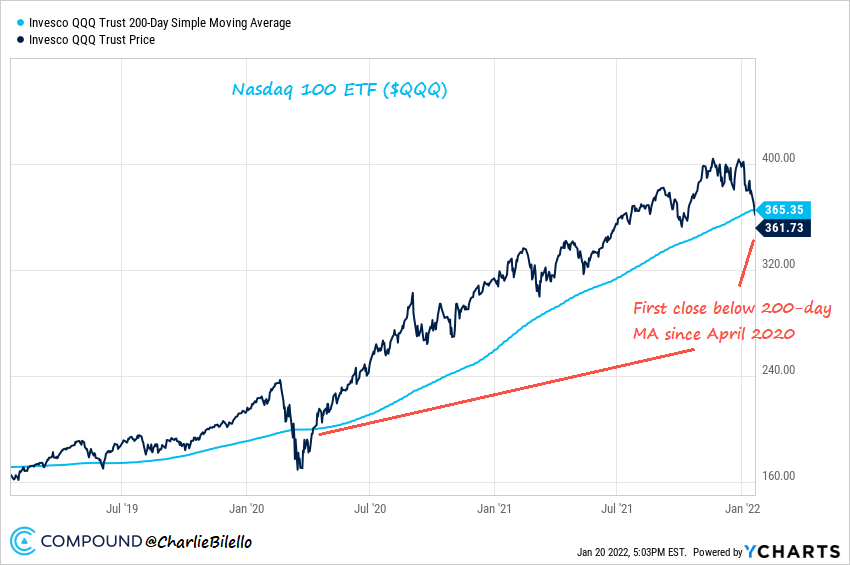 On Friday, the S&P 500 did the same, ending the 4th longest streak above its 200-day moving average at 419 trading days.
2) The Price of Admission
The S&P 500 is now down 8.8% from its high on January 4, its largest correction since September 2020.
Drawdowns are the norm for equities, not the exception; they are the price investors must pay to earn higher long-term returns than bonds or cash.
The smooth upward advance in 2021 was a historical outlier, with 70 all-time highs and a maximum decline of less than 6%.
More common are bouts of volatility that instill fear into the hearts of investors. The median intra-year drawdown in the S&P 500 is 13%, which means what we have seen thus far in 2022 is nothing out of the ordinary.
The spike in the $VIX (Volatility Index) last week of over 50% is also par for the course. We've actually seen larger spikes a number of times in recent years. All of those spikes were associated with bad news (as is the case today), and after nearly every one of those times the market was higher a year later…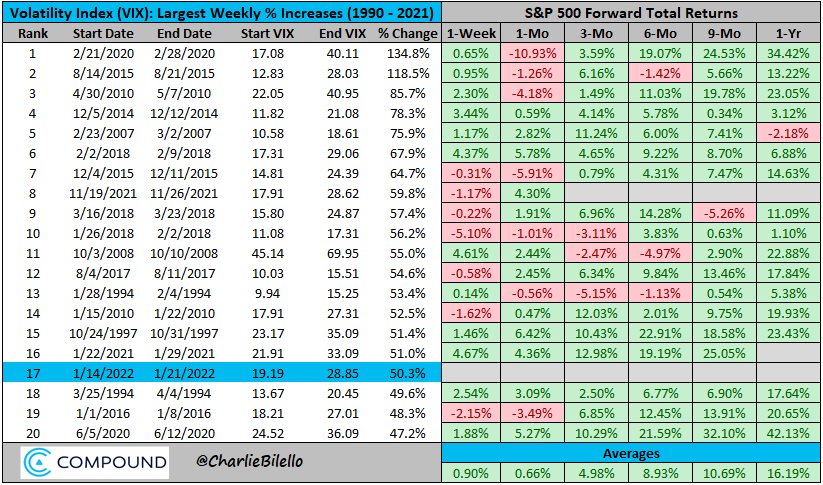 3) An Epic Roundtrip
While the broad equity markets peaked only a few weeks ago, the bear market in high growth stocks has been ongoing for some time, with many former leaders suffering staggering losses.
Peloton ($PTON) is one of the most prominent examples, gaining an astounding 490% from the start of 2020 through its peak in January 2021. Incredibly, it has now given back all of those gains after an 84% decline.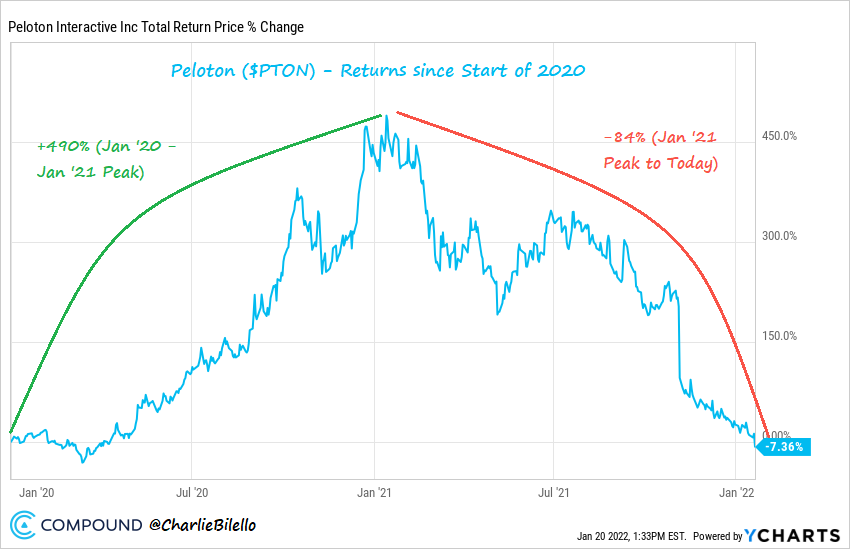 What's interesting is that Peloton's revenues during this epic roundtrip have more than tripled, from $1.2 billion to $4.1 billion (trailing 12 months).
Which means that the wild swings in investor sentiment have been the primary driver of both the parabolic move up and the subsequent crash down. Peloton's price to sales ratio started at 5x in early 2020, jumped to 20x near its mania peak and is now down to 2x.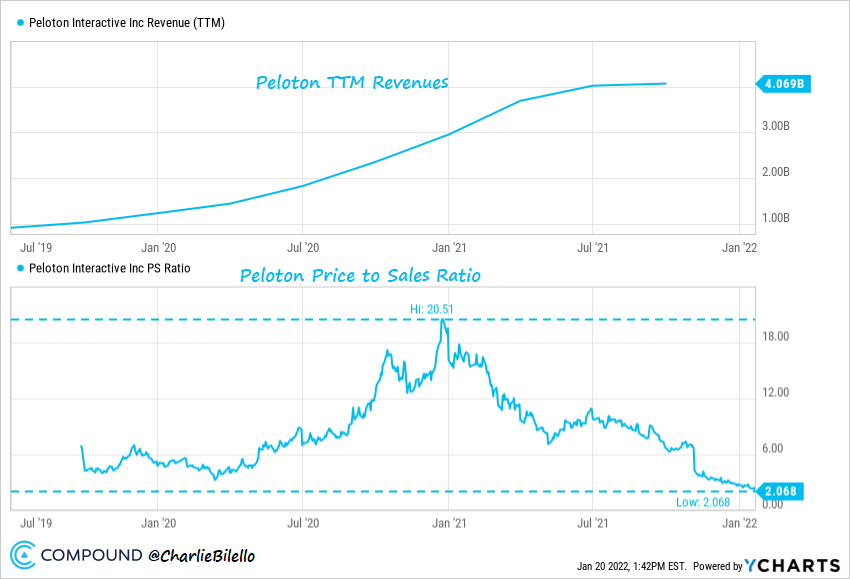 4) Moving Back to Reality
One by one, all of the manias of the past two years are slowly moving back to reality (see here).
The latest example is Rivian (an electric vehicle automaker with less than $1 million in sales), who just 2 months ago had a market cap of $153 billion, significantly higher than both GM and Ford (see post here). After a 62% decline, Rivian's market cap has now moved down to $58 billion, back below both GM and Ford.
The related mania in Avis Budget ($CAR) last year was something to behold, with the rental car company more than tripling in a single trading day after announcing they would be adding electric vehicles to their fleet.
After a 68% decline, nearly all of those gains are gone…
5) No Upside Without Downside
The crypto market is proving once more that there is no upside without downside. After a tremendous year of gains in 2021, we're seeing sizable corrections in all of the major coins.
% below 2021 high…
The asset class is no stranger to large declines as we have seen throughout the history of Bitcoin. The lesson: there is no upside in investing without the risk of downside. Anything that doubles in a short period of time can just as easily get cut in half.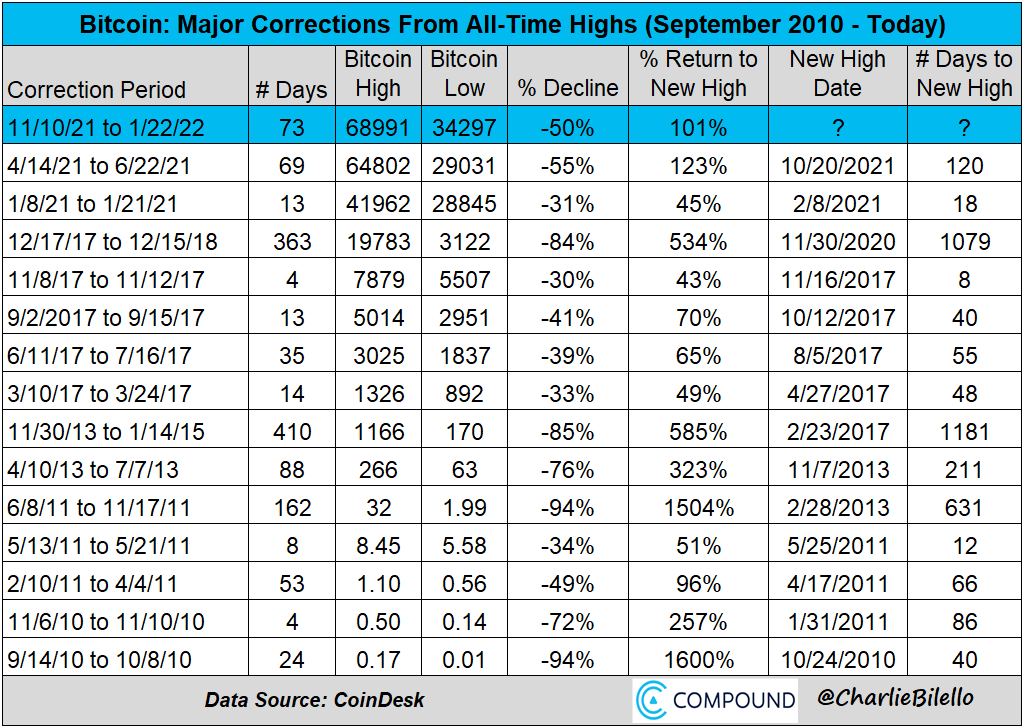 6) Hot Commodities
While equities and crypto are in the midst of a correction, commodities continued to push higher last week. At $85 a barrel, WTI Crude is now at its highest level since 2014.
The crash that pushed Crude Oil futures into negative territory in April 2020 would mark the bottom of the cycle, with Commodities outperforming stocks thereafter.
7) Down With Covid
Last week I shared a chart of New York's covid-19 peak, and this week we can clearly see a peak in the nation as a whole.
If the US follows the pattern from the UK, the downturn will be swift, with cases there already down 50% from their highs.
__
Have a great week everyone!
-Charlie
To sign up for our free newsletter, click here.
Disclaimer: All information provided is for educational purposes only and does not constitute investment, legal or tax advice, or an offer to buy or sell any security. For our full disclosures, click here.