Notes:
–Click Here for a replay of my recent webinar with YCharts covering Fed Policy, Equity Valuations, the Worst Year for Bonds in History, and much more.
-I have a new video channel on YouTube where I'll be sharing my latest thoughts on markets and investing. You can view the most recent video here.
-Join thousands of other investors in receiving a weekly letter from me covering the most important charts/themes in markets and investing. Sign up here.
7 charts from the past week that tell an interesting story in markets and investing…
1) Netflix and Spill
Netflix reported a decline in paid subscribers for the first time in the company's history (200k lower during the 1st quarter with a projected 2 million loss in Q2), sending the stock sharply lower. The 35% drop on Wednesday was the largest single-day loss for Netflix shares since October 2004.
Netflix has now lost over two-thirds of its value from its peak, the largest drawdown since 2011-12.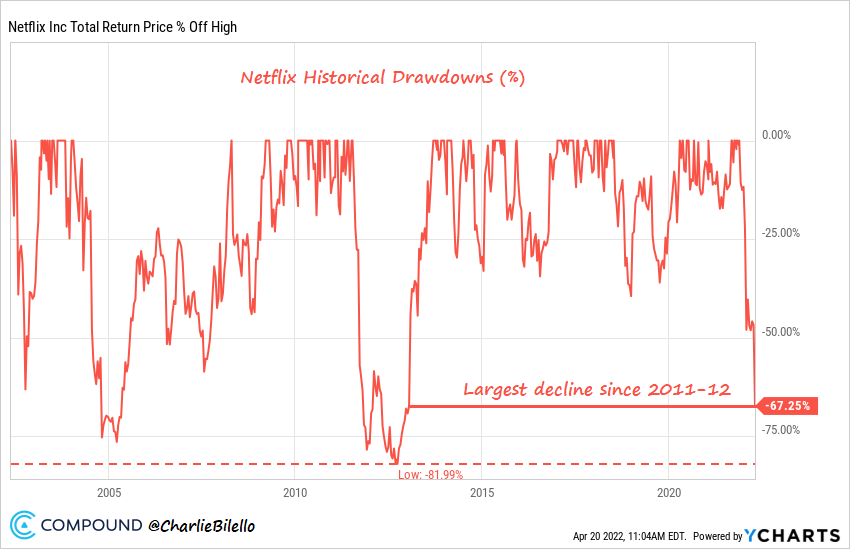 Netflix revenues were up 9.8% over the last year, its slowest year-over-year growth rate since 2012.
Over the last 4 years, Netflix has increased its revenues by an astounding 138% while its stock price has fallen 33%.
How did that happen?
Multiple compression. 4 years ago Netflix was trading at over 11x sales and it now trades at 3.2x sales.
Is this the low? No one knows, but valuations can always go lower. Case in point: back in 2012 (the last time revenue growth was this slow), Netflix actually traded at less than 1x sales.
The reversal of fortunes for Netflix ($NFLX) and Exxon Mobil ($XOM) has been remarkable to watch. Last November, Netflix had a market cap higher than Exxon. Fast forward to today and Exxon's market cap is $282 billion higher…
2) The Growth Machine
Tesla ($TSLA) continues to silence the doubters with unbelievable growth numbers. Revenue of $18.76 billion in Q1 was a new quarterly record, an 81% increase over the prior year.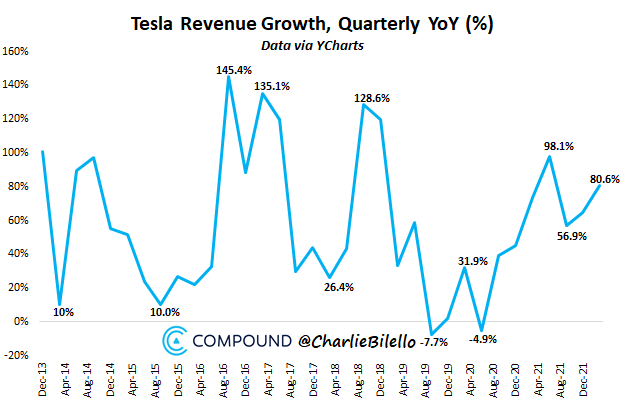 Tesla is expected to do $85 billion in sales this year, an over 200x increase in the last 10 years.
And profitability continues to increase as well, hitting $3.3 billion in net income during Q1, its 7th consecutive record quarter and over 7x higher than a year ago. From 2007 through 2019, Tesla reported $6.7 billion in cumulative net losses, with a decline in every calendar year. Since the start of 2020, though, that trend has reversed, and Tesla has reported $9.5 billion in cumulative net income.
An interesting factoid in their shareholder deck: while Tesla spent no money on Super Bowl ads ("Tesla does not advertise or pay for endorsements. Instead, we use that money to make the product great." – Elon Musk), they saw a sharp increase in orders the day after the Super Bowl, apparently benefitting from viewers seeing competitor EV ads.
3) When Will the Housing Boom End?
The US Housing Boom continues with the median sales price of an existing home hitting another record high, up 15% over the last year and 34% over the last 2 years.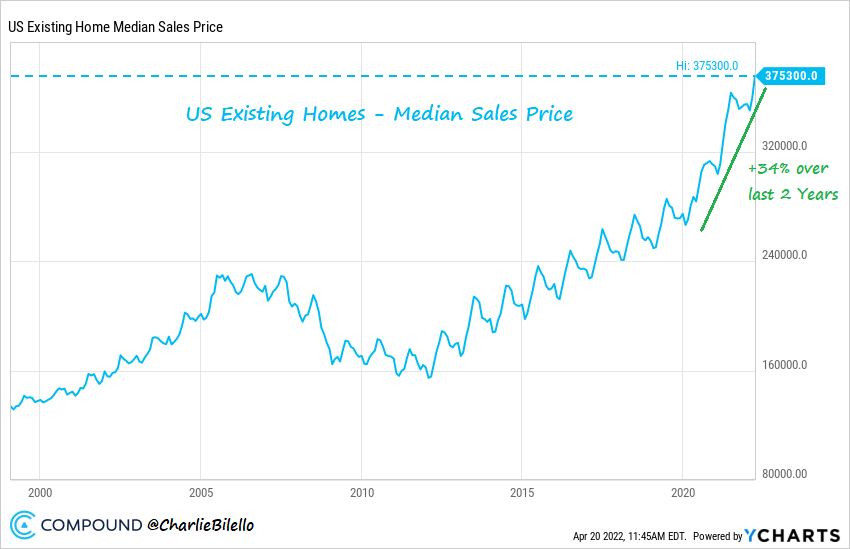 Is this level of increase sustainable? No, and two powerful forces may bring the boom to an end earlier than many are expecting.
The first factor? Increasing supply, with housing starts rising to their highest levels since 2006.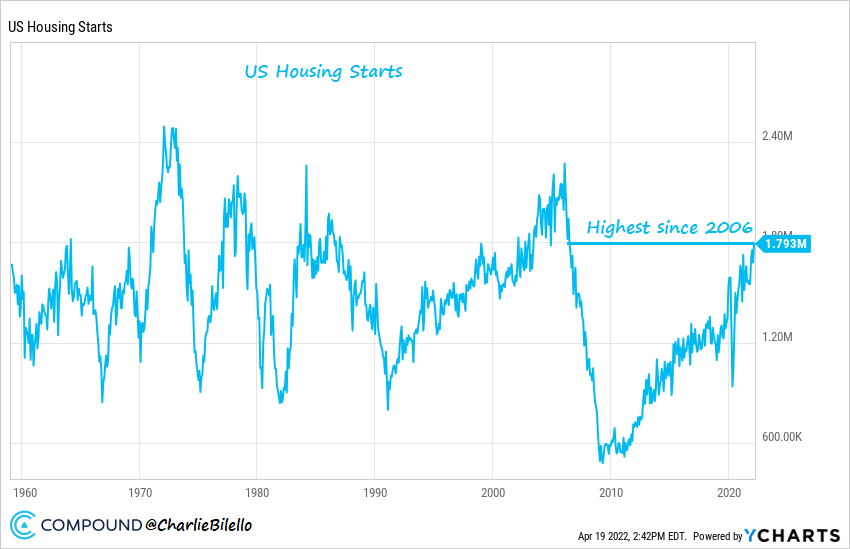 The second factor? A sharp decline in affordability, with mortgage rates rising 2% in just last 16 weeks to their highest levels since 2010. We haven't seen an increase like this over 16 weeks since 1980.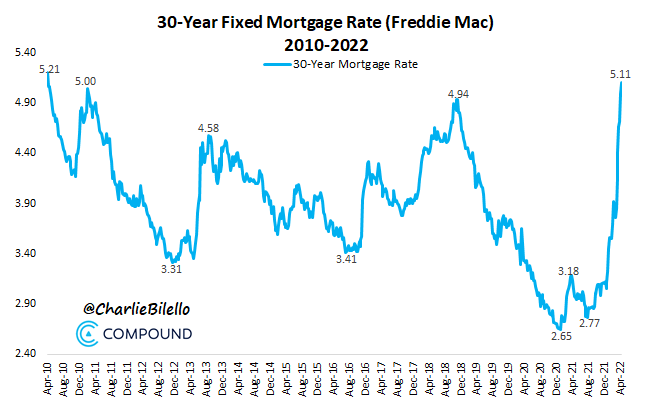 In January 2021, the 30-year mortgage rate was 2.65% and average new home price in the US was $401,700. Today, the 30-year mortgage rate is 5.11% and average new home price is $511,000. Assuming a 20% down payment, that's a 72% increase in the monthly payment (from $1,294 to $2,222). And this does not include property taxes, insurance, and the cost of maintenance/repairs which have seen significant increases as well.
4) Consumers Unhappy but Still Buying
US Retail Sales hit another new high last month while Consumer Sentiment fell to its lowest level in over a decade. Translation: Americans are not happy about rising prices but they're still spending money.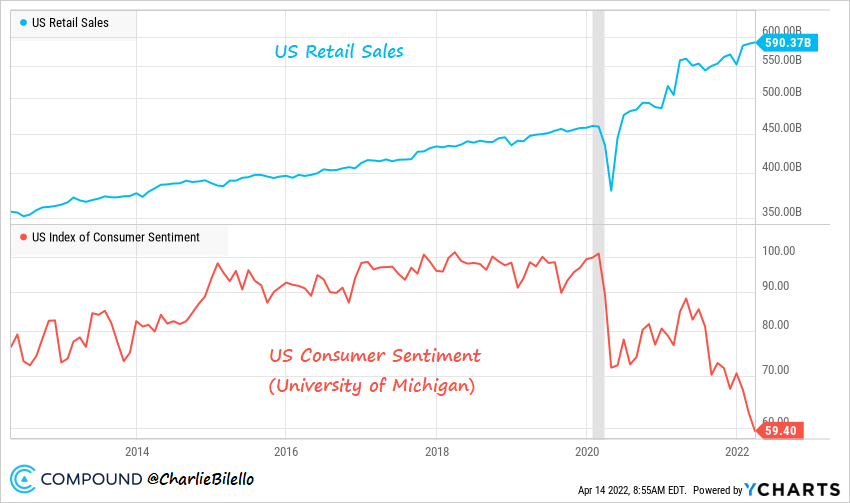 Part of the rise in retail sales is simply due to higher prices as inflation-adjusted sales peaked last April. But real retail sales are still 15% higher than pre-covid levels. So demand remains strong irrespective of inflation and is likely due to the strength of the consumer balance sheet.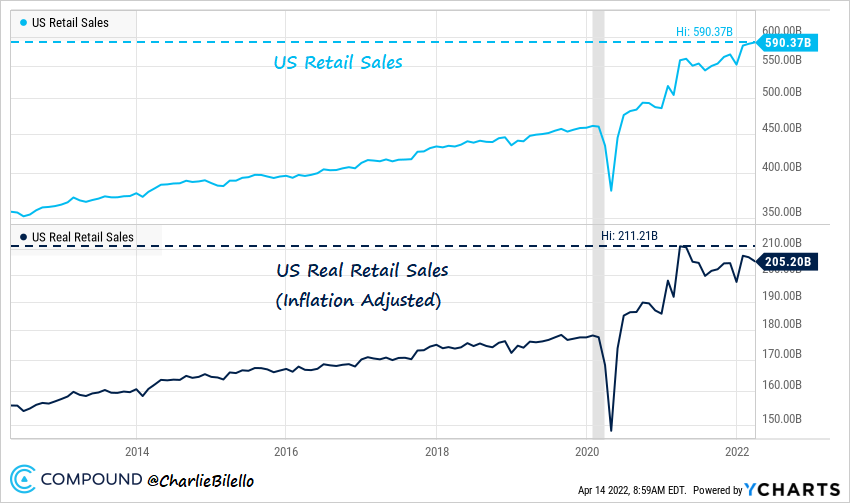 5) Manufacturers Working Overtime
With consumer demand still far outpacing supply, manufacturers have been working overtime to catch up. On that front, US Industrial Production (a measure of manufacturing output) has hit a new all-time high, surpassing the prior high from August 2018.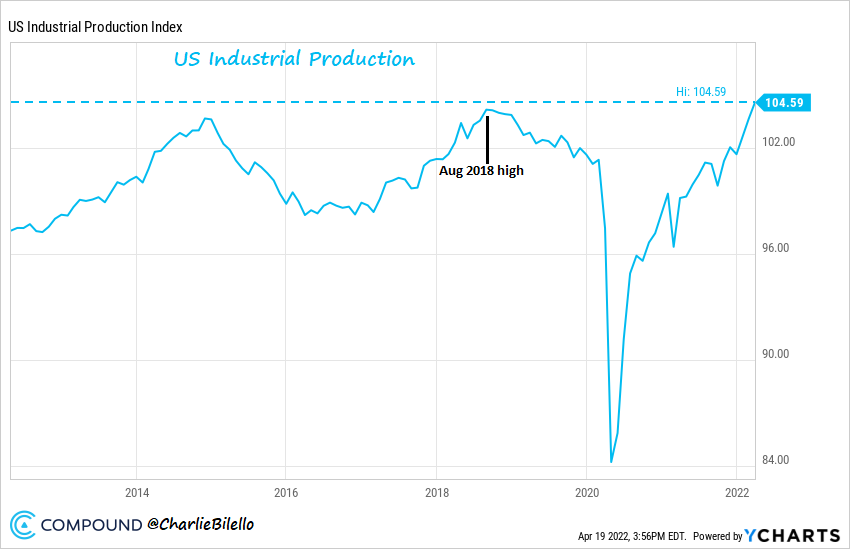 6) Bond Market Blues Continue
The US Bond market is now down 11.2% from its high in August 2020, the largest correction we've seen in 40 years.
Jerome Powell confirmed this week that "50 basis points will be on the table for the May meeting." The market is now fully pricing that in and anticipating steeper rate hikes in the June and July meetings as well. As a result, interest rates continue to rise. The 1-Year treasury yield is now back over 2%, a sharp increase from where it stood just a few months ago (0.39% entering the year).
7) Funding Secured
The Musk-Twitter saga continues. A recent filing revealed a) $46.5 billion in funding commitments secured to help finance the acquisition of Twitter and b) that Musk is "exploring whether to commence a tender offer" at a price of $54.20 per share.
The shares are currently trading at 10.7% below that offer price, indicating that there is still skepticism over whether the acquisition will happen.
Should Twitter accept Musk's offer? I asked this question and here were the results…

If the offer is rejected and Musk walks away, the share price is likely to see a significant fall, as Twitter's positive return this year is a huge outlier in what has been a sea of red for Tech/Growth companies…
---
And that's it for this week.
Have a great weekend everyone!
-Charlie
To sign up for our free newsletter, click here.
Disclaimer: All information provided is for educational purposes only and does not constitute investment, legal or tax advice, or an offer to buy or sell any security. For our full disclosures, click here.