Note: I have a new video channel on YouTube where I'll be sharing my latest thoughts on markets and investing. Check out the most recent video on the upcoming Fed rate hike here.
This week's post is sponsored by YCharts. Mention Charlie Bilello to receive 20% off your subscription when you initially sign up for the service.
___
6 charts from the past week that tell an interesting story in markets and investing…
1) Sour Sentiment, Surging Sales?
Here's an interesting juxtaposition: US Retail Sales hit a new high in January while Consumer Sentiment is at its lowest level in over a decade.
What's going on?
People are not happy about rising prices, but they're still spending.
Part of the rise in retail sales is simply due to higher prices, as inflation-adjusted sales peaked last April. But real retail sales (adjusted for inflation) are still 15% higher than pre-covid levels and are at their highest levels since last June. So consumer demand is still quite strong, irrespective of inflation.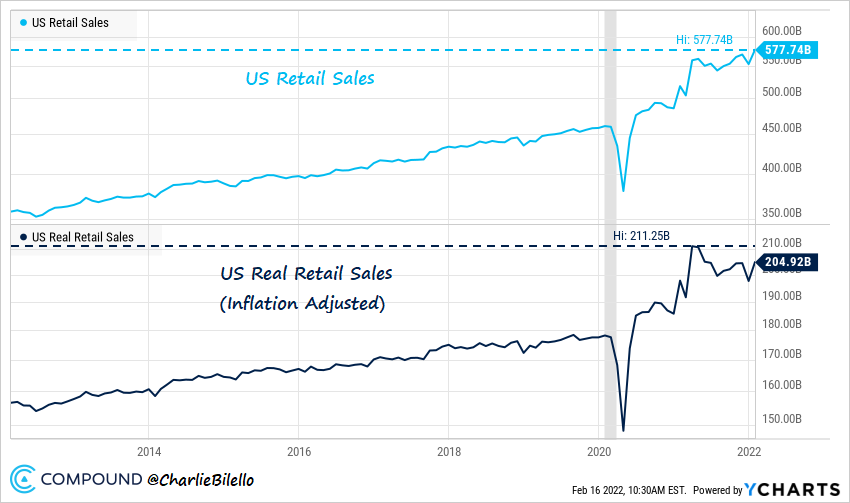 2) The Price You Pay Matters
Twitter's sales have grown from $535 million at its IPO in 2013 to over $5 billion today.
Have investors been rewarded for that growth?
Not exactly. The stock is 20% lower than its 1st day closing price from its IPO in 2013. By comparison, the Nasdaq 100 ($QQQ) is up 350% over the same time period.
What happened?
Investors were overly optimistic at its IPO, paying 41x sales. Today, after growth has slowed, they are paying 6x sales. This multiple contraction has completely outweighed all of the fundamental growth in sales.
Which is another way of saying that price you pay for an investment matters.
3) Picking Stocks is Easy Hard
The "stonks only go up meme" has been noticeably absent these days.
In its place: the cold, hard reality that stock picking is anything but easy.
The latest example: Zoom.
The S&P 500 has more than doubled (+103%) from the lows in March 2020 while Zoom ($ZM) is down 17%. And over this time Zoom's revenues have increased by over 6x (from $623 million to $3.91 billion).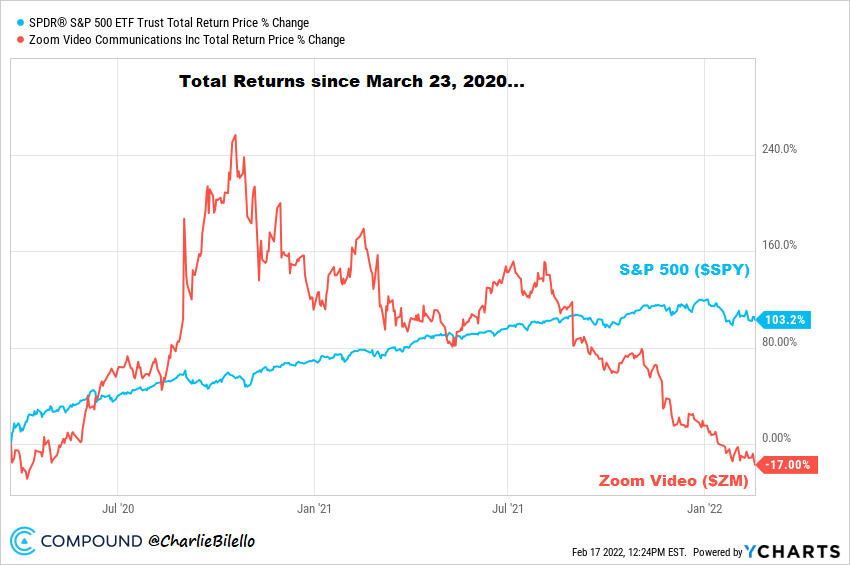 What happened?
In March 2020, Zoom investors were paying 65x sales on the expectation of a massive growth surge.
The surge did indeed come and by October 2020 investors were happily paying over 100x sales for it.
But once growth rate started to slow, things changed quickly, and the multiple investors were willing to pay collapsed. Zoom now trades at 10x sales, which was enough of a repricing to erase all of its gains since the March 2020 low.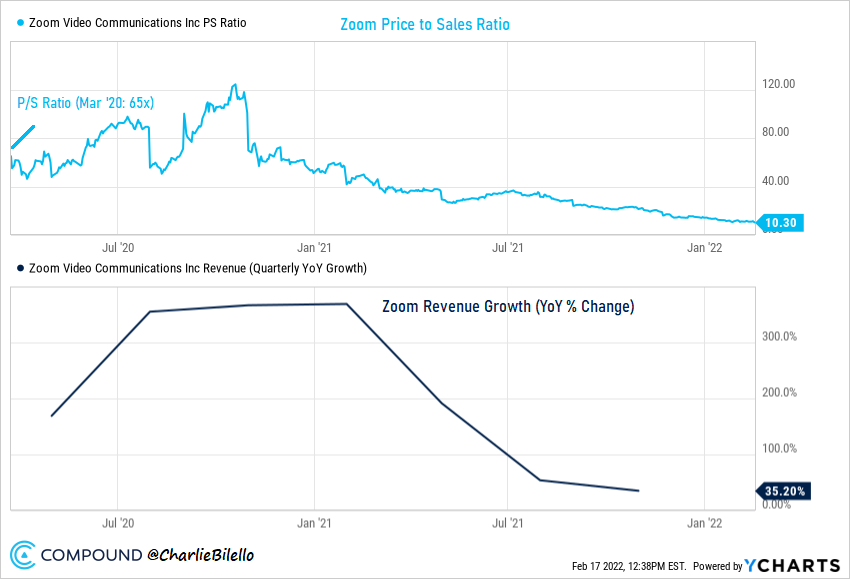 4) Another Roundtrip
The list of stocks that have given up all of their gains since the start of 2020 is growing, with PayPal being the latest example.
Shares of PayPal are now 67% below their high from last July, by far the largest drawdown since the company spun-off from Ebay in 2015.
One year ago investors were happy to pay 17x sales for PayPal, its highest multiple ever. Today they can't sell the stock fast enough at less than 5x sales.
5) Bond Bear Market
Nearly every segment of the bond market is down in 2022, which is on pace to be the worst year in history.
The catalysts:
Rising short-term rates: 1-Year Treasury Yield has moved up to 1.13% from 0.39% at the start of the year.
Rising long-term rates: 10-Year Treasury Yield has moved up to 2.03% from 1.52% at the start of the year.
Widening spreads: high yield credit spreads are up to 3.74% from 3.10% at the start of the year.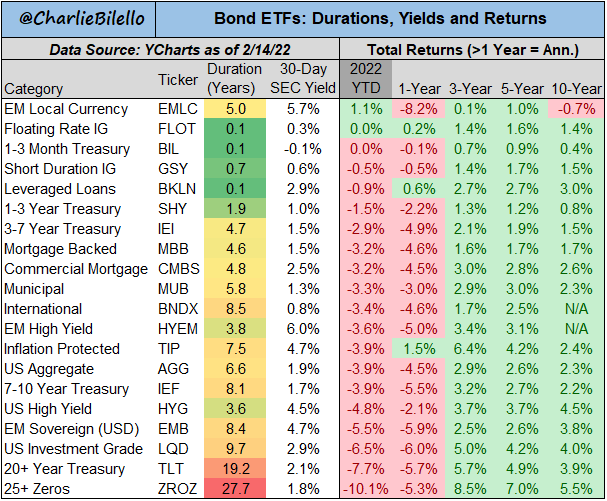 The good news? Bond investors are now being paid a higher yield, which means higher future returns.
The bad news? That yield is still quite low, especially when compared to the prevailing inflation rate.
6) Housing Boom, Affordability Bust
The US Housing Boom continues with Building Permits rising to their highest levels since May 2006.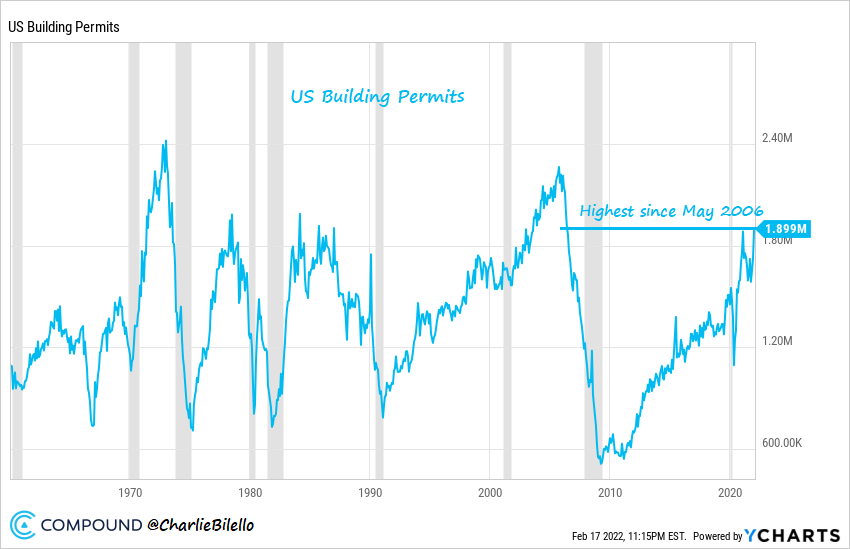 Incredibly, the Fed is still stimulating, with holdings of mortgage-backed securities hitting another record high.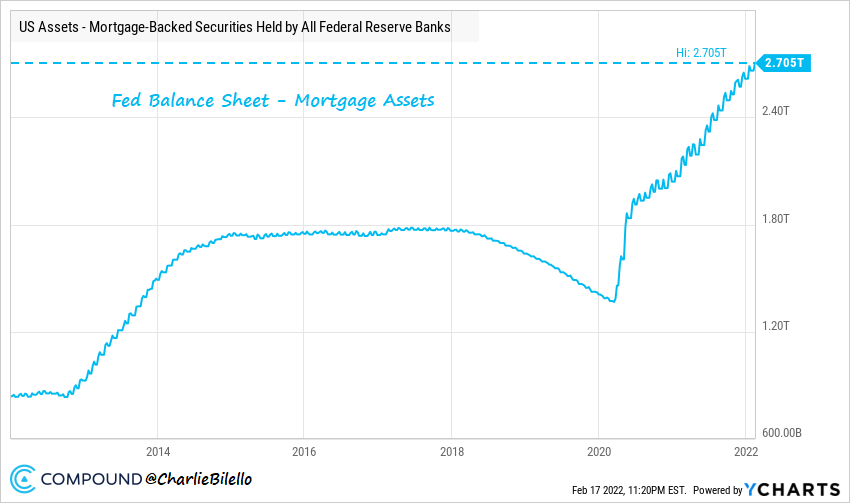 But this is all set to end in March (QE over, first rate hike), and the markets are quickly adjusting to that new reality. The 30-Year Mortgage rate in the US has moved up to 3.92%, its highest level since May 2019. The problem for home buyers? Housing prices are up 32% since May 2019 with many areas of the country (Phoenix, Tampa, Miami, Las Vegas, San Diego, etc.) up even more. That means affordability for new buyers is falling fast.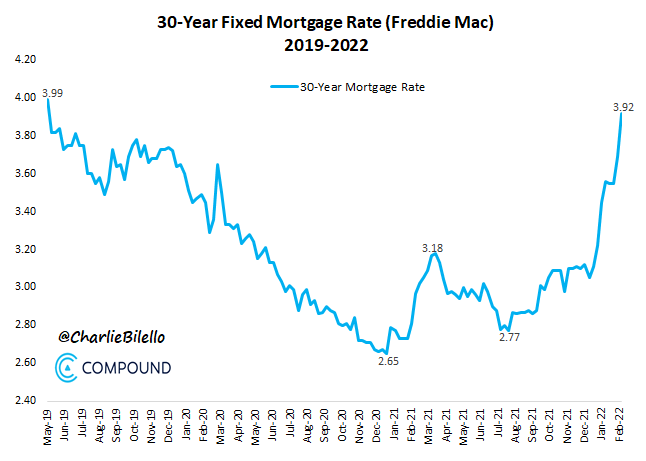 ---
And that's it for this week.
Have a great weekend everyone!
-Charlie
To sign up for our free newsletter, click here.
Disclaimer: All information provided is for educational purposes only and does not constitute investment, legal or tax advice, or an offer to buy or sell any security. For our full disclosures, click here.