Notes:
–Click here for a replay of our October Webinar
–Click here to register for our November Webinar
—
This week's post is sponsored by YCharts. Mention Compound to receive 20% off your subscription when you initially sign up for the service.
Enabling smarter investment decisions & better client communications.
---
7 charts from the past week that tell an interesting story in markets and investing…
1) 22 Years Later: Dow 36,000
In late 1999, during the height of the dot-com bubble, a book entitled "Dow 36,000" was published, prophesizing that the boom had only just begun (the Dow was at 11,000 at the time).
This week, 22 years later, the Dow finally crossed above the 36,000 mark…
2) Back to the Year 2000
The Dow wasn't the only index hitting records this week.
The S&P 500 crossed above 4,700 for the first time and the Nasdaq Composite hit 16,000.
The S&P 500 has now closed at an all-time high in its last 7 trading days and 64 times in 2021. The record for all-time highs in a calendar year is 77 set in 1995.
The result of this unrelenting upward advance: higher valuations. On that front, the S&P 500 Shiller P/E Ratio ("CAPE Ratio") moved above 40 this week for the first time since 2000.
3) Mister Softee on Top of the World Again
Speaking of 2000, Microsoft was the largest company in the world back then.
But following the dot-com crash and financial crisis, it would go on to suffer a 70% drawdown over the next 9 years, finally hitting a low in March 2009. It did not surpass its 2000 peak until 2014, 14 years later (total return basis).
But after an incredible run it passed Apple this week to once again claim the throne as largest company in the world.
4) Play Stupid Games, Win Stupid Prizes
In the early morning hours of November 1st, we saw a boom and bust cycle take place in the recently invented Squid Game crypto coin (no financial relationship with the show) that was hard to fathom.
Here's how it played out (price of Squid Game per coin):
1:35am: $38.19
2:35am: $89.91
3:35am: $93.64
4:35am: $434.70
5:35am: $2,856.65
5:40am: $0.0007926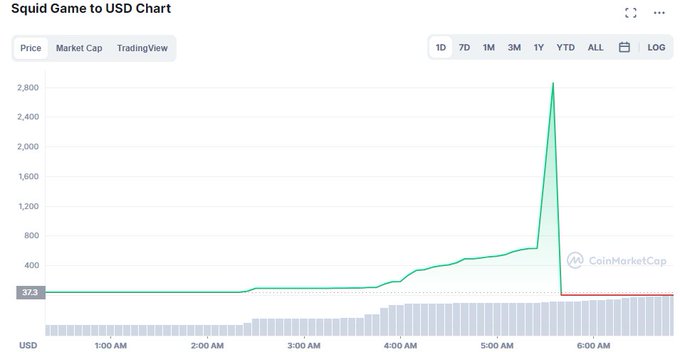 At a reported supply of roughly 720 million Squid Game coins, this would have valued the crypto asset at over $2 trillion at 5:35am and less than $1 million just a few minutes later.
5) The Great Reopening in 2 Charts
People are going back to the gym…
People are going back to concerts…
6) The Beginning of the End of Easy Money
As expected by everyone, the Fed finally announced a tapering of asset purchases at this week's FOMC meeting. The plan: reduce purchases of Treasuries by $10 billion per month and purchases of mortgage-backed securities by $5 billion (from current totals of $80 billion in Treasuries and $40 billion in MBS).
But a slowdown in the purchases is still an increase, and the Fed's balance sheet hit another new high this week at $8.575 trillion.
Incredibly, this is an increase of $1.2 trillion in a year (2021) that has featured the highest US inflation rates in 30 years and the highest US growth rates in 40 years.
7) The Greatest Jobs Comeback in History
22.4 million jobs were lost in March-April 2020 during the nationwide covid shutdowns. Since then, 18.2 million jobs have been added back, including 531,000 in October. That still leaves 4.2 million to get back to pre-covid levels, but this has already been the greatest jobs comeback in history.
The US Unemployment Rate continues to move down, hitting 4.6% in October, its lowest level since the start of the pandemic. This is now well below the historical average since 1948 (5.8%).
Similarly, initial jobless claims continue to fall, hitting a new pandemic low of 269,000 this week.
—
And that's it for this week. Thanks for reading.
Have a great Sunday and week ahead!
-Charlie
To sign up for our free newsletter, click here.
Disclaimer: All information provided is for educational purposes only and does not constitute investment, legal or tax advice, or an offer to buy or sell any security. For our full disclosures, click here.