Click Here for the Replay of September's Webinar
—
This week's post is sponsored by YCharts. Mention Compound to receive 20% off your subscription when you initially sign up for the service.
Enabling smarter investment decisions & better client communications.
---
7 charts from the past week that tell an interesting story in markets and investing…
1) Back to Work
The Unemployment Rate in the US moved down to 4.8% in September, its lowest level since the start of the pandemic. This is now a full percentage point below the historical average since 1948 (5.8%).
There are 3.3 million more jobs openings in the US than unemployed persons. That's another record high.
2) Wage Push Inflation
The labor shortage continues to drive wages higher, with average hourly earnings in the US increasing 4.6% over the last year.
This is pushing many companies to increase the prices they charge for goods and services, so that they can maintain profitability. Consumers are anticipating this trend to continue, with expected inflation of over 5% in the coming year and 4% per year over the next 3 years.
3) From Worst to Best
Speaking of inflation, Crude Oil ended the week at its highest level since October 2014.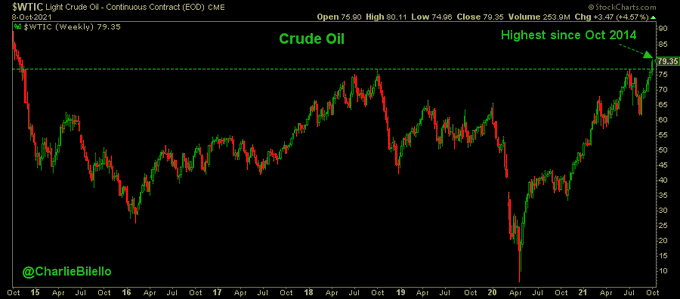 This is driving a sharp rebound in energy-related stocks. After being the worst performer in each of the last two years, Energy is leading all sectors in 2021 with a return of 54%.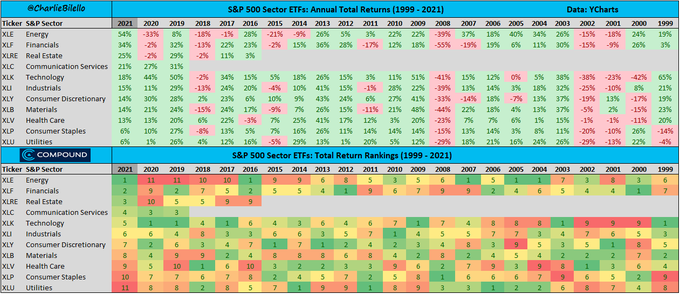 With a 36% weighting in Energy, Russian stocks are at their highest levels since 2008, led by their largest company (Gazprom) which is up over 70% on the year.
4) $100 Billion in Space
Elon Musk's SpaceX passed the $100 billion mark this week.
Among Unicorns, only Bytedance (TikTok's parent company) has a higher valuation.
5) Reversion of the Memes
The meme stock frenzy from early in the year continues to unwind, with Beyond Meat ($BYND) and Tilray ($TLRY) serving as the latest examples.
6) The Great Normalization Continues
The list of central banks that are normalizing policy in response to higher inflation continues to grow, with Poland (first hike in 9 years), New Zealand (first hike in 7 years), and Peru (3rd hike this year) all hiking rates in the last week.
While the US remains committed to 0% and easy money for the time being, the clock there appears to be ticking, with inflationary pressures becoming harder and harder to dismiss.
The largest expense for most households in the US is housing, at over 40% of CPI. And with rents rising over 16% already this year (still 3 months to go), more and more people are going to be feeling the effects of higher prices.
7) Bitcoin's Back
The downturn following the China ban proved to short-lived. Bitcoin surged above $55,000 this week, hitting its highest levels since May.
On the year, it's up 90%, leading all major assets…
—
And that's it for this week. Thanks for reading.
Have a great week everyone!
-Charlie
To sign up for our free newsletter, click here.
Disclaimer: All information provided is for educational purposes only and does not constitute investment, legal or tax advice, or an offer to buy or sell any security. For our full disclosures, click here.