This week's post is sponsored by YCharts. Mention Compound to receive 20% off your subscription when you initially sign up for the service.
Enabling smarter investment decisions & better client communications.
---
5 charts from the past week that tell an interesting story in markets and investing…
1) Crocs Comeback
One of the great comebacks in stock market history: Crocs is back all-time highs after 14 years and a 99% drawdown. $CROX
2) Memes > Vaccines?
Moderna created a life-saving vaccine in record time and now has a market cap of $65 billion. This is a 10x increase from where it stood at the start of 2020.
Dogecoin became a meme and now has a market cap of $87 billion, a 348x increase from the start of 2020. This is a higher market value than 408 companies in the S&P 500.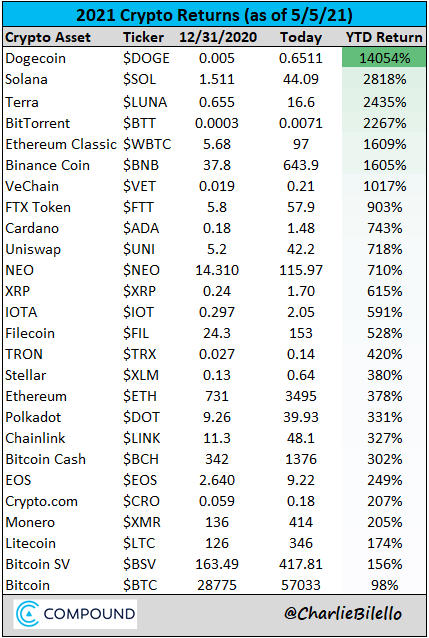 3) Car Buying Boom
Consumers are spending big on big ticket items, with vehicle sales in the US hitting their highest levels since 2005.
Yet another example of too much money chasing too few goods. On that front, US inflation expectations hit their highest levels since 2008 this week and commodity prices continue to climb.
4) Record Margins
Add this to the list of things no one predicted a year ago: US corporations have never been more profitable than they are today…
5) The Great Reopening of America
45% of Americans are now vaccinated and we're seeing the positive results continue: cases and deaths are down over 80% from their peak in January.
Less risk from covid means more traveling, more eating out, more in-person gatherings, and more fun.
The great reopening of America has begun.
---
And that's it for this week. Thanks for reading.
Have a great weekend and happy mother's day to all the moms!
-Charlie
To sign up for our free newsletter, click here.
Disclaimer: All information provided is for educational purposes only and does not constitute investment, legal or tax advice, or an offer to buy or sell any security. For our full disclosures, click here.