This week's post is sponsored by YCharts. Mention Compound to receive 20% off your subscription when you initially sign up for the service.
Enabling smarter investment decisions & better client communications.
__
5 charts from the past week that tell an interesting story in markets and investing…
1) Stimmy, Stimmy, Stimmy
The 3rd round of stimulus checks are on their way, with President Biden signing the 3rd stimulus bill into law this week. This round is the largest yet, with a family of 4 receiving $5,600 in free money (calculator here), adding to the $2,400 they received in the 2nd round and $3,400 in the 1st round.
Where will all this money go? I did a poll this week on just that…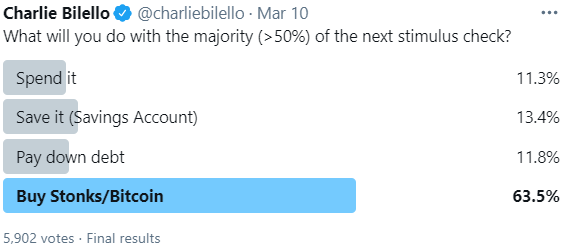 Investors seem to be front-running the stimulus trade with new highs once again in the Dow (+7% YTD) and Bitcoin continuing its epic surge (+99% YTD). Asset price inflation is alive and well.
2) Inflation Cometh
Speaking of inflation, investor expectations for higher prices hit their highest levels since 2008 this week.
This backdrop continues to put pressure on bond yields, which are marching higher.
What asset class has been the best hedge against inflation historically? The answer may surprise you.
3) The Show Goes On
The GameStop saga is not over. After falling 92% from its high in January, meme traders bought the dip with alacrity, driving the stock up more than 7x from its lows.
4) Earnings Down, Stock Prices Up, Valuations Up
With 4th quarter earnings nearly complete, S&P 500 full year profits were down 24.6% in 2020.
The downturn in earnings was not surprising. What was? That stocks rose over 16% in 2020, leading to the largest multiple expansion (54%) and year-end P/E Ratio (31.7x) in history.
5) The Road Back to Normal
Covid-19 trends continue to move in the right direction, with US hospitalizations now down 71% from their peak in early January.
Over 19% of the US population has now been vaccinated with at least one dose, as the pace of vaccinations continues to increase (2.2 million per day over the last week).
---
And that's it for this week. Thanks for reading.
Have a great weekend everyone!
-Charlie
To sign up for our free newsletter, click here.
Disclaimer: All information provided is for educational purposes only and does not constitute investment, legal or tax advice, or an offer to buy or sell any security. For our full disclosures, click here.