5 charts from the past week that tell an interesting story in markets and investing…
1) Netflix Numbers
Netflix reported earnings this week and surpassed expectations once again. Global subscribers moved above 200 million for the first time, increasing 22% in 2020 (up from 20% in 2019 and 18% in 2018).
Netflix original series continue to be a hit with viewers, representing 8 out of top 10 most searched shows globally.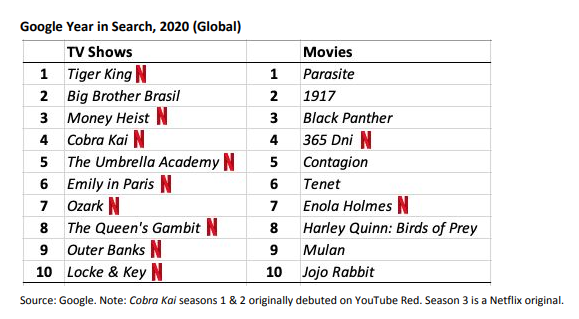 Few companies have benefitted as much as Netflix during the pandemic as we outline in our recent 8 to 80 Spotlight.
2) Reaching Higher for High Yield
The hunt for yield continues, with junk bonds yields in the US moving down to 4.22%, another all-time low.
3) Housing Boom 2.0
The boom in US the housing market continues, with new residential construction projects (aka "starts") rising to their highest levels since September 2006. Ultra-low mortgage rates and free money via stimulus checks have lead to a surge in demand for new homes.
Shares of homebuilders continue to benefit from this trend, outpacing the broader market. From its low last March, the homebuilder ETF is up 167%.
4) Emerging Trends
After over a decade of underperformance, Emerging Markets have trended higher relative to US stocks since bottoming last May.
This and a number of other secular trends have been showing signs of a reversal (see my recent post here).
5) The Bull Market in Chicken
Over the past 40 years, there's been a huge shift in American meat consumption with Chicken moving higher and Beef moving lower.
To meet this increasing demand, "at least 10 major US fast-food chains have introduced fried-chicken sandwiches in the past 3 months."
__
And that's it for this week. Thanks for reading.
Have a great weekend everyone!
-Charlie
To sign up for our free newsletter, click here.
Disclaimer: All information provided is for educational purposes only and does not constitute investment, legal or tax advice, or an offer to buy or sell any security. For our full disclosures, click here.