5 charts from the past week that tell an interesting story in markets and investing…
1) From Fear to Greed
From extreme Fear in March to extreme Greed today.
The equity put/call ratio (a ratio of bearish option bets to bullish option bets) has never been lower…
We haven't seen a mania like this since late 1999/early 2000. How will it end? Nobody knows, but if past is precedent, much more back-and-forth volatility is to be expected…
2) Apple Eats the World
Apple's market cap hit $2.3 trillion on Tuesday this week, which was equal to the combined value of all the stocks in the Russell 2000.
By after hours on Thursday, it had moved back down to $2 trillion, erasing $300 billion in 2 days. That loss of market cap was greater than 485 companies in the S&P 500. Stunning numbers and volatility in the world's largest company.
3) Zooming Growth
What company has benefited most from the transition to a stay-at-home economy?
I asked that question on Twitter this week and the most common response by far: Zoom.
They reported earnings this week showing revenue growth of 355% over the prior year.
Its market cap hit a high of $135 billion, up from from $19 billion at the start of the year.
4) Covid Downtrend Continues
The number of new covid-19 cases in the US continues to decline, with the 7-day average at its lowest level since late June.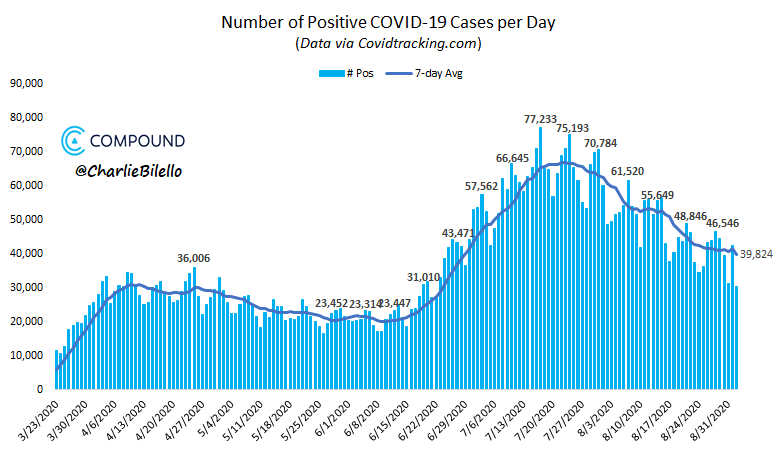 The number of covid hospitalizations is also declining at a rapid pace…
Deaths, which are a lagging indicator, are starting to show a clear decline as well…
5) Smaller Oil
10 years ago, Exxon Mobil was the largest company in US. Today, it is being replaced in the Dow by Salesforce, which had a market value of $15 billion ten years ago.
__
Enabling smarter investment decisions & better client communications.
__
And that's it for this week. Thanks for reading.
Have a great weekend everyone!
-Charlie
To sign up for our free newsletter, click here.
Disclaimer: All information provided is for educational purposes only and does not constitute investment, legal or tax advice, or an offer to buy or sell any security. For our full disclosures, click here.