5 charts from the past week that tell an interesting story in markets and investing…
1) Dashing to 100x
The DoorDash ($DASH) IPO this week did not disappoint, propelling the company to a market cap of more than $60 billion. That's over 100x higher than its private market valuation back in 2015…
Few companies have benefitted as much as DoorDash from the transition to a stay-at-home economy this year, with demand for food delivery services taking an exponential leap higher.
DoorDash did $1.9 billion in revenues in the first 9 months of 2020, a 226% increase compared to the first 9 months of 2019 (source).
At 28x sales, investors are paying a high premium with the expectation that this growth will continue.
2) The Air Up There
Not to be outdone, Airbnb's IPO this week saw stunning demand, with its valuation more than doubling from its IPO price. Since its seed round in January 2009, Airbnb's value has increased 49,000x.
The welcoming reception from investors is a stunning turn of events from where Airbnb stood just 8 months ago…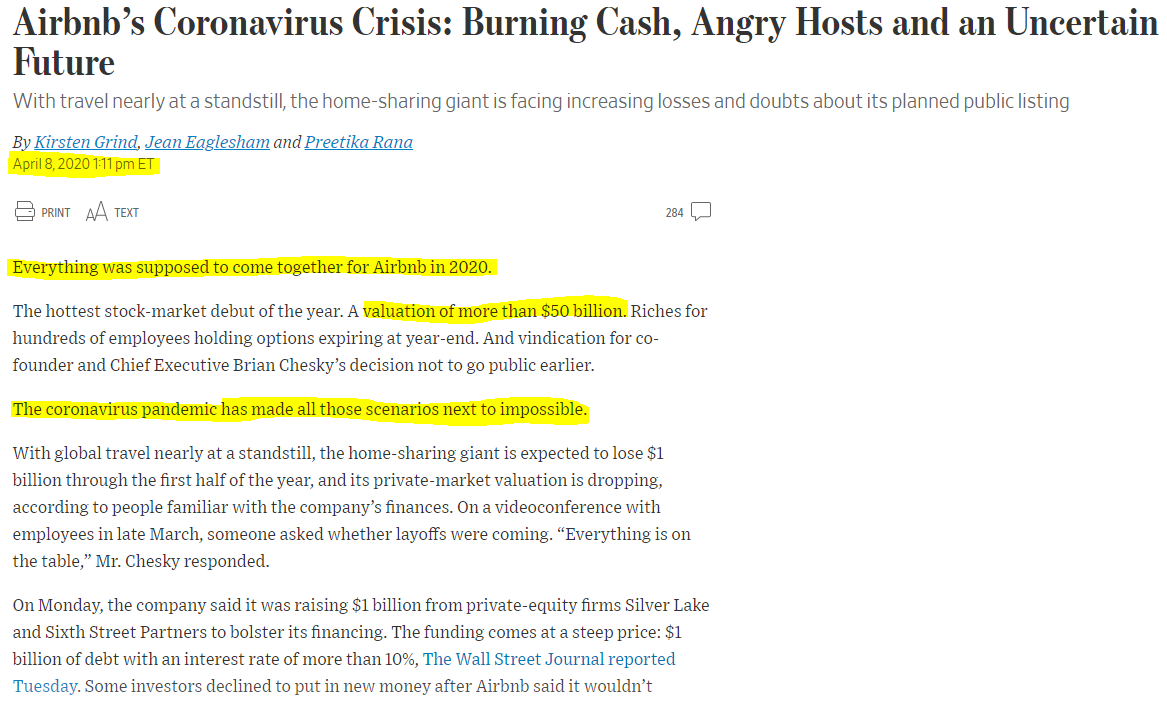 Unlike DoorDash, the transition to a stay-at-home economy has hit Airbnb hard, with revenues down 32% in the first 9 months of 2020 ($2.5 billion vs. $3.7 billion in 2019).
Investors this week did not seem to care, betting on a resumption of prior growth rates in 2021. A stunning fact: at $98 billion, Airbnb is worth more than the 3 largest hotel chains (Marriott – $42 billion, Hilton – $29 billion, InterContinental – $12 billion) combined.
3) Leaving Money on the Table
DoorDash and Airbnb are capping off what has become a boom year for IPOs (for a look back at the last 10 years, see recent post here). We haven't seen first-day share price gains like this since 1999-2000.
This massive underpricing has resulted in a massive transfer of wealth from founders, employees, and early investors to bankers, institutions, and new investors who manage to gain access to the IPO.
Bill Gurley (noted venture investor at Benchmark Capital) has been highly critical of the IPO process for this reason, preferring direct listings instead (great podcast with Patrick O'Shaughnessy and Gurley on this).
4) Disney's Remarkable Comeback
At the lows in March, Disney was down over 40% on the year, with a market cap of $155 billion. It has since doubled to a $318 billion market cap, a new all-time high.
This week's surge higher was attributed to Disney+, which continues to trounce expectations.
At its launch, Disney was projecting 60-90 million subscribers by 2024. By last quarter, it had already hit 73.7 million subscribers and Disney is now forecasting 230 million to 260 million subscribers by 2024.
5) The Most Highly Valued Large Cap in History?
Snowflake's ($SNOW) price to sales ratio hit 245 this week with a market cap of over $120 billion.
Has there ever been a company this large with a valuation this high? I don't believe so.
Back in the dot-com mania, Cisco briefly hit a price to sales ratio of 39x. That was considered extreme at the time.
__
And that's it for this week. Thanks for reading.
Have a great weekend everyone!
-Charlie
To sign up for our free newsletter, click here.
Disclaimer: All information provided is for educational purposes only and does not constitute investment, legal or tax advice, or an offer to buy or sell any security. For our full disclosures, click here.