5 charts from the past week that tell an interesting story in markets and investing…
1) Vaccine Reversal
The big news this week came early on Monday with reports of 90% effectiveness in Pfizer's covid-19 vaccine.
The initial reaction was a massive reversal in the "covid trade" with companies hurt most by the virus rallying (Cruises, Airlines, Hotels, Commercial Real Estate), and companies who benefitted most from the virus selling off (eCommerce, Video Conferencing, Home Exercise and Pools, etc.).
While Pfizer initially spiked higher on the news, it would then pull back 11% in the next 3 days and is now flat on the year. Trading is never easy.
Hopefully, the effectiveness of the vaccine will hold up as the phase 3 trial continues, bringing an end to this scourge in 2021. The vaccine's impact on the virus will depend in part on how many people take it. From a recent poll this week, it seems that more than half are currently hesitant to be the first in line. I would expect that to change as we get more data on its safety in the coming months.
2) The Great Migration
Americans are on the move, migrating at a faster pace than we've seen in years.
Metro areas they are leaving…
Metro areas they are moving to…
3) High Low Yield
US High Yield bond yields hit an all-time low this week: 4.76%.
4) Hospitalization Highs
Covid-19 hospitalizations in the US hit a new high this week, surpassing the prior high from the summer.
Hospitalizations are rising in all regions, with the Midwest showing the most severity on a per capita basis.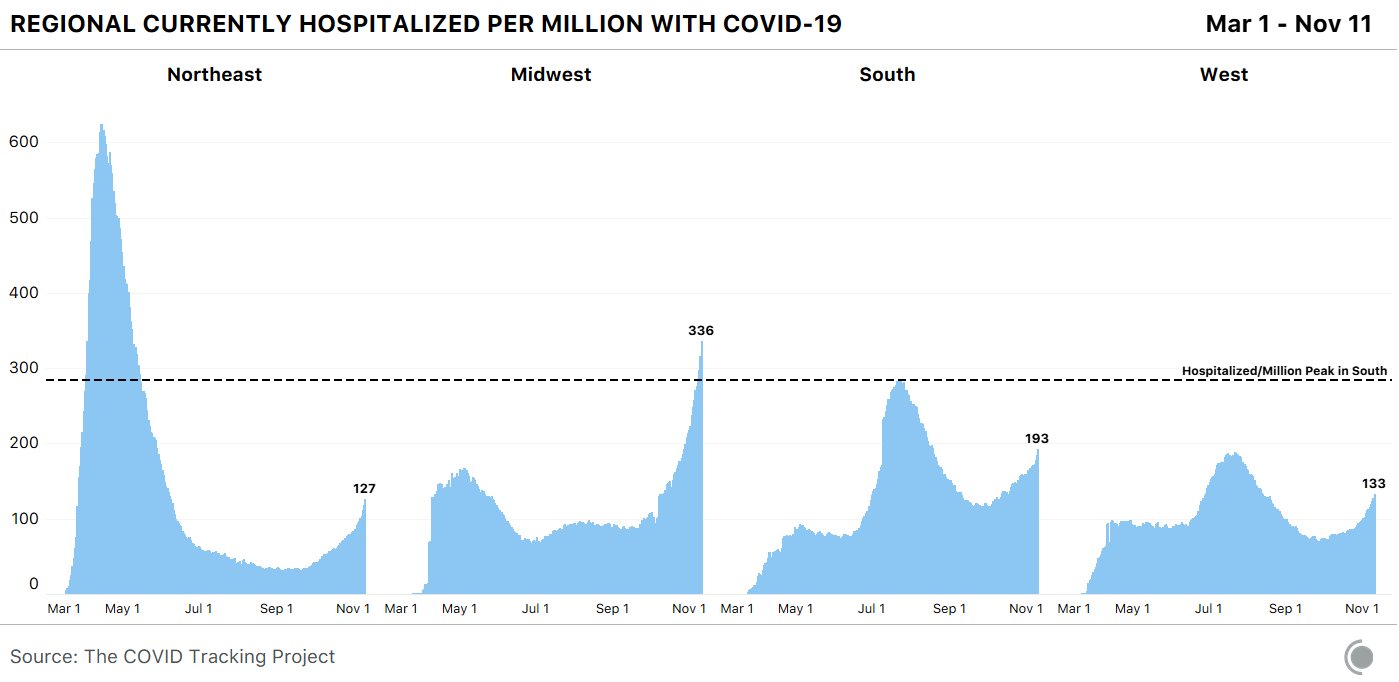 5) Uber Losses, Uber Gains
Uber's net income declined $1.1 billion in the 3rd quarter, following a consistent pattern…
Uber Net Income:
Q3 2020: -$1.1 billion
Q2 2020: -$1.8 billion
Q1 2020: -$2.9 billion
Q4 2019: -$1.1 billion
Q3 2019: -$1.2 billion
Q2 2019: -$5.2 billion
Q1 2019: -$1.0 billion
Q4 2018: -$0.9 billion
Q3 2018: -$1.0 billion
Q2 2018: -$0.9 billion
Revenue's declined 18% from a year ago as travel remains depressed, the second straight YoY decline.
What's going on with its stock price? New all-time highs this week.
How is that possible?
Investors are clearly looking ahead to better days, and viewing passage of Prop 22 (exempting Uber from classifying drivers as employees) as a big win as well.
__
And that's it for this week. Thanks for reading.
Have a great weekend everyone!
-Charlie
To sign up for our free newsletter, click here.
Disclaimer: All information provided is for educational purposes only and does not constitute investment, legal or tax advice, or an offer to buy or sell any security. For our full disclosures, click here.